As the founder of Amazon once said "Your brand is what other people say about you when you're not in the room". It might seem like a simple phrase but it is the most comprehensive definition that you can ever find. Brand-building provides you a competitive edge over your competition and helps you earn profits when your customers start recognizing you. The studies also suggest that about 59% of online buyers prefer to buy from trusted sellers. Once your customer starts trusting you the introduction of new products becomes a lot easier as well. Follow the steps below to successfully formulate an online brand building strategy.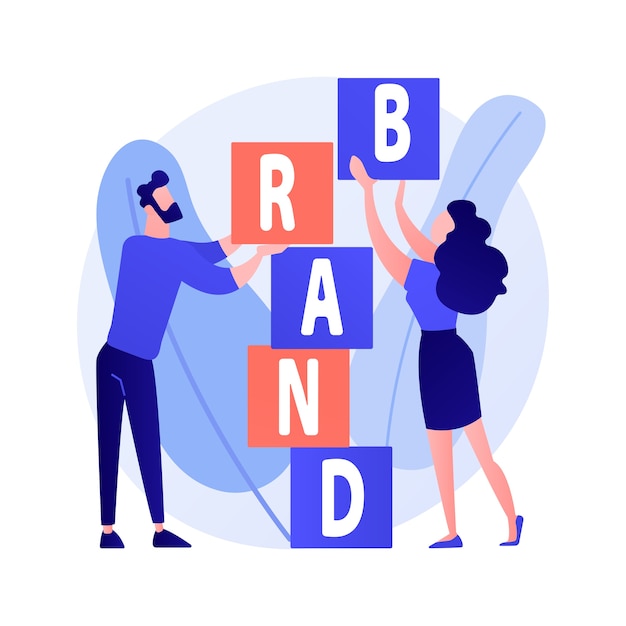 Understand the purpose of your online brand building strategy and clarify your vision
The biggest step towards creating a successful branding strategy is to first develop clarity of vision. This can be done by developing an understanding of your business. Questioning yourself is a good way to start and you might want to ask yourself:
Why your business exists?
What differentiate you from others?
What kind of services do you offer?
Why should people use your services?
It might seem like a sort of SWOT analysis but take it from the experts, that you must start from scratch. The reason for you to be developing a strategy means that your business is not behaving the way it should. Answer the questions above, and clarifying your vision is a great way to start.
Decide the targeted audience
Branding is the answer to most of the business problems. Most of the time the strategies are weaved around this concept solely. However, if the targeted audience or customer isn't selected wisely, then no matter how great a strategy you've developed it'll never get you the response you desire.
For example, if you are selling baby diapers, then your targeted audience should be the moms rather than a general audience. Narrowing down your targeted audience has more promising results. Reaching out to your target audience is a lot more simple now because of internet. Locals search for their required services on online business listing directory sites like Yelp, HighFive Listings, Angi, etc. or they get to search engines to find for them. And guess what search engines sources from these online directories as well, to authenticate the businesses some-what.
What's your competitors' online brand building strategy?
You may choose to call this question the market research, but it is extremely important to know what your competitors are doing. The purpose of the information collection isn't to imitate a popular brand but it is to identify where they are lacking. The bigger brands often know to have flawed strategies that affect their customer relations to some extent. A flaw in the competitor's strategy can be an advantage for you because an improvement is going to attract the customer towards you. For example, the brand name itself should be attractive and it must be something impacting that the customers can easily recognize and remember, above all it should improve online presence.
Where to start your formulation of online brand building strategy?
Leverage social media power
This is the core technique of any online brand building strategy. Get your brand's profile on social channels – Be cautious! Not every social platform is for your brand! Create profiles where your target audience can actually take interest in your services or products.
You'll find 100s and 1000s of such sites but don't create business profiles on all, instead create 2 or 3 on powerful mediums and maintain them initially. Maintaining your profiles is the actual after task! Strive for consumers' feedback and engagements of other potential leads.
Create a Blog for Your Brand – Where your brand speaks!
The blogs have proven their worth over time and it is a great way to stay connected to the customers and build your reputation. A lot of big names have now started their blogs because it helps you grow professionally. If you are truly determined to make your brand known and make a difference, then the results of blogging can be very long-lasting because you can rediscover a whole new self of yours. Writing about relevant topics will automatically improve your online presence and enhance your credibility.
Generate yummy shareable content
The internet has a lot of pages and it would take several lifetimes to go over them. However, not all of these pages contain high-quality content. The high-quality content must be unique, specific and result-oriented. It creates a very good impact on the visitors and makes them return for more in future. Someone like you who's developing a new branding strategy to improve online presence can be very advantageous to focus on this amazing white hat technique. Because high-quality content can greatly improve your Google ranking and that would lead to a greater number of visitors.
Not your piece of cake? Already occupied with other important stuff?
Get dedicated help – hire experienced team or outsource!
Branding isn't a simple task because it has different areas of the specification that you can't possibly cover all by yourself. Especially when your target is to improve your online presence. That's where you are going to need SEO professionals or hire small business marketing consultant to decide better. The SEO experts can be the missing piece of your strategy because they not only help you formulate a strategy but monitor the performance as well.
The strategy development to improve online presence is vital for any business to survive in a highly competitive market. Taking timely actions has greater rewards and if you are a starter, then your branding strategies can help you reach your goals faster than you imagine. The pointers above can only help you correct your direction and you mustn't ignore the professional support. Because strategy formulation isn't a simple task, and it would take a full-fledged SEO team to take your business to the new heights.
Best of luck with your online brand building strategy! At least start it with the above basic techniques, follow the dedicated team advice and you are already on the way to brand building.