Most successful internet businesses have a coupon program in place, and they offer coupons to customers on a regular basis. It's not surprising: coupon marketing's effects are widely known, and if you're not using coupons at your store, you're missing out on a great opportunity.
Coupons are just discounts, and everyone loves the feeling of getting a great deal. However, coupons may be used in a variety of ways that go beyond reductions, and each coupon can help you attract additional clients.
We'll look at coupon marketing in the context of this article before exposing you to four sales-boosting tactics.
Let's get started!
Introduction to Coupon Marketing Strategies
If we talk about the primary coupon market strategy, it is quite simple: you will offer coupons or vouchers that customers can redeem for discounts and free rewards. This method has various advantages, including:
Provide you appealing deals to help you drive more sales.
Increasing the number of repeat clients.
Increasing traffic to your store and generating interest using social media.
Removal of unwanted stock from the store.
Furthermore, who does not enjoy a good deal? Well, everyone does. Therefore, coupon marketing is one of the best strategies out there that works perfectly. However, when it comes to e-commerce, offering simple discount coupons is a far too simple approach, so let's check out some alternative options.
To help you understand the impact of coupons in marketing, consider these statistics.
What Are Digital Coupons?
Retailers use digital coupons to give discounts and promotions to present and potential customers. Digital coupons are most commonly used to entice customers to make a purchase on a retailer's website by offering a percentage off, free delivery, or some other type of discount.
Physical vs. digital coupons
There are a few tiny distinctions between physical coupons and digital coupons, despite the fact that their goal is essentially the same.
Incorporating physical coupons into your marketing campaign is substantially more expensive. Printing, insertion, and distribution fees apply to physical coupons, but digital coupons can be sent via text, email, and automatically generated communications.
Digital coupons are simple to send, but they can get lost in the deluge of emails that most inboxes now get on a regular basis.
How to use coupon marketing to increase sales?
The amount of discount that a company wants to offer to their consumers will be determined by a variety of aspects, including your profit margins, the intensity with which you need to make sales, and more. With companies like Supercouponsurveys, you can easily find and use coupons according to your choice. We do understand that coupon surveys can be a huge factor in revenue generation. Instead, we'll concentrate on when and how to use coupons more economically in this segment of the article.
Let's get started!
Offer coupons for first-time buyers and existing customers
The most difficult aspect of running an eCommerce business is enticing new clients to buy from you. After they've made a purchase, you may begin to build trust with them and urge them to come back to your store and become regular customers.
Many internet firms use the strategy of offering coupons with attractive discounts to new customers. You may also use a departing intent pop-up to display the offer you're making to customers as they exit the virtual door, allowing you to target them as they leave.
You can enhance sales that you would not have made otherwise with the help of this method. Once you've piqued the customer's attention, you can use email marketing to send them further coupons, which will help them remember your store.
Use Limited-Time Offers
A limited-time offer is a discount that customers can take advantage of for a short time only. You can, for example, limit your availability to a few hours or days. By restricting access, the idea is to induce clients to act sooner rather than later. According to studies, millennials are especially open to limited-time deals, with 50% saying they find them appealing.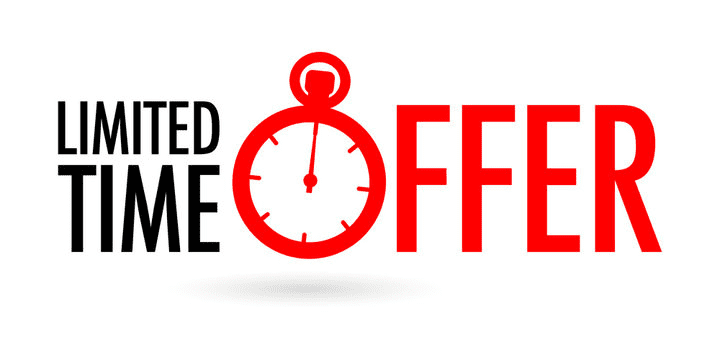 Limited-time deals are more likely to appear around product launches or at important seasons of the year, such as the holidays. This strategy is also effective in attracting clients who are in the consideration stage of their buying process. They've done their homework and whittled down their choices. When they arrive on your site and see the deal, they recognize the value you provide, as well as the fact that they are getting what they want at a reduced price.
Do some research to see what types of offers other retailers have available to make your offer stand out from the crowd. Then figure out how to take it a step further. For instance, if they provide a 10% discount on their first purchase, do the same but also include free shipping.
Use email marketing to keep your subscribers informed about limited-time deals. Include a countdown timer in your emails to remind clients that time is running out to acquire that thing they've been eyeing. This will create a sense of urgency for them to act.
You can take this sense of urgency even further by including social proof. Include a few testimonials from customers who have purchased the things you're promoting, for example.
Offer price-minimum coupons to increase your per-sale averages
One of the really significant Key metrics for an online store is the average profit per purchase. Understandably, you want the number to be as good as possible, and coupon marketing is an excellent strategy to achieve that goal.
People may spend more money when there are discounts included in a store than they would have normally. You can profit from this by presenting coupons that are only valid for purchases of a certain quantity.
For example, imagine you give customers a 15% discount if they purchase more than $20. You've already with the calculations, therefore you understand you'll remain profitable either way. In fact, this can significantly enhance earnings because it encourages sales promotions.
"Buy One Get One Free" (BOGOF) coupons to move less popular items
In an ideal world, every single product or service on your website would sell equally well. But, you will frequently encounter conditions in which individual goods do not work as effectively as you would like (or hope).
When it comes to physical items, this becomes a problem because you're stuck with things taking up more room. A sensible solution is to use coupons to 'bundle' these items with better sellers. With this strategy, you can make your rising items more appealing while also getting rid of unnecessary inventory.
To be truthful, the bundles will not generate as many sales as if you sold each product separately. However, they can frequently generate far more sales, ensuring that you come out ahead in any situation.
Create a Customer Reward Program
Customer loyalty can be boosted through reward programs. Customers receive special discounts that provide value and allow them to save money in exchange for continually picking your items over the competition. The higher the customer's lifetime value (LTV) and revenue, the longer they stay loyal.
Reward schemes, by all accounts, appear to be effective. According to studies, 84 percent of customers are more inclined to be loyal to firms that offer a rewards program.
Customers' loyalty should be rewarded with unique discounts. You can also provide clients extra rewards, such as a free product if they reach particular milestones. Send a thank you product to customers on their one-year anniversary, for example.
Finding out what your audience wants is the first step in building an engaging incentive program. This is based on your knowledge of them. Consider what kind of products repeat customers most frequently purchase and what forms of rewards they most frequently use—percentage discounts or monetary savings.
Next, divide your clients into groups so that you can tailor programs and messages to different types of customers. Let's imagine you own a clothing line that caters to both men and women. Create a rewards program that allows each section to earn awards, points, and other incentives that may be used toward certain purchases.
Use email or SMS marketing to remind clients of their current reward tier and the savings that await them to keep them engaged and eager about going up.
Incorporate artificial advancement into your tiered incentives system as well. When a new customer joins your rewards program, give them a few "free" points or money to get them started. Customers prefer incentive programs that feel like they've already started over reward programs that start at zero and require customers to build on them, according to a study of the Endowed Progress Effect.
Bottom Line
E-commerce gives us a lot of possibilities to use coupons in ways other than simply delivering discounts. Coupons, when used appropriately, can help you raise sales in specific scenarios, and you can also experiment with new strategies whenever you wish. Coupons are effective ways of marketing in eCommerce because they motivate customers to engage. In fact, 48 percent of customers buy faster when they have a coupon, and 37 percent spend more than they would ordinarily.
Remember that coupon marketing strategies succeed especially when combined with other SEO strategies. Simply relying on coupons to grow your business would have the opposite impact because clients will not recognize the value of your products. They may purchase at a different company where the customer satisfaction is higher simply because the competition is more strategic in terms of when and how they provide discounts.
Do not rush and take the time to learn about your customer details and their requirements. You could then establish a coupon marketing strategy that attracts attention and wins more loyal customers.